Wait! Basic Commands for Therapy Dogs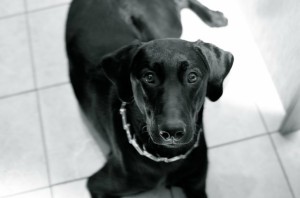 In our last blog post, we described the difference between the "Stay" and "Wait" commands and gave suggestions for teaching your dog to "Stay." Today we are going to continue that post with suggestions for teaching your dog the "Wait" command. 
Work on the "Wait" command every time you go out, whether your dog is going with you or not, when you are getting out of the car, when are letting your dog out of the crate (if you use a crate), when giving food, when giving a toy, you can even practice as you are both leaving or entering a room in your home. Outside on a walk is also a great place to practice. For example, use "Wait" if your dog has gotten too far ahead of you. It's a good idea to begin this training indoors before going outdoors as there are many more distractions outdoors.
For our training example, we are going to describe how to teach "Wait" at the front door as you are going out with your dog.
Step 1
Have treats your dog likes ready. Small pieces work best when training since you will be repeating the command several times.
Step 2
Open the door slightly while giving your dog the command "Wait."
Step 3
If your starts to lunge at the door, close the door and try again.
NOTE: When first starting this training, release your dog and give them a treat as soon as they start to hesitate while you are opening the door. If they start to hesitate, it means they are getting the idea.
Step 4
As you progress in training, ask your dog to "Wait" for longer periods of time.
Step 5
Keep up with training even after your dog gets it. Incorporate "Stay" into playtime by having your dog "Sit" and "Stay" and "Down" and "Stay" during a game of fetch.
Once your dog consistently gets it you won't have to show your dog a treat to get them to obey a command. They will have learned the word and will know what to do, even without a treat. Even if you don't have a treat, remember to still praise them for listening and responding to your command.