Stay! Basic Commands for Therapy Dogs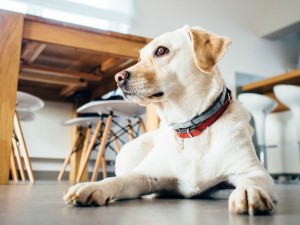 Two very important commands to teach your dog are "Stay" and "Wait."
"Stay" means that your dog stays in a position, like "Sit" or "Down," until you give a release command. A release command is a word that tells your dog that they no longer have to obey a command. Words like "free," "go," "ok," etc are all good words to use to release your dog. The key is to decide on a word and use it consistently.
"Wait" means that your dog stays in the general area where you've told them to stay, but not in any position.  An example of when to use the "Wait" command is if you have parked the car and want your dog to wait until you exit the car before they jump out.  Another example is when you are leaving the house and you don't want your dog running out the door.
An example of when "Stay" would be a better command is  if you have guests at the door. For example, teaching your dog to "Sit" and "Stay" as your guests enter can curb jumping and running around your guests.
Today's post is about teaching the "Stay" command.
Step 1
Have treats your dog likes ready. Small pieces work best when training since you will be repeating the command several times.
Step 2
Give the command for either "Sit" or "Down." It's a good idea to practice with both. Treat your dog for obeying your command.
Step 3
Now say "Stay" with your hand out and palm facing forwards. Walk back a few steps and wait a few seconds. If your dog stays, walk back to them, give them a treat and praise them. Your dog may not get the "Stay" command the first time.  Keep trying, it may take a few tries before they understand what you want but they will get it.
Step 4
Practice the "Stay" command several times a session. As you practice, increase the length of time of the "Stay" as well as how far away from your dog you walk. Don't do too much too soon, take it slowly.
Step 5
Eventually you will be able to leave the room and return with your dog in the "Stay" position. This takes a bit of practice, but it will happen with consistent practice.
Step 6
Keep up with training even after your dog gets it. Incorporate "Stay" into playtime by having your dog "Sit" and "Stay" and "Down" and "Stay" during a game of fetch.
Once your dog consistently gets it you won't have to show your dog a treat to get them to obey a command. They will have learned the word and will know what to do, even without a treat. Even if you don't have a treat, remember to still praise them for listening and responding to your command.