Sit! Basic Commands for Therapy Dogs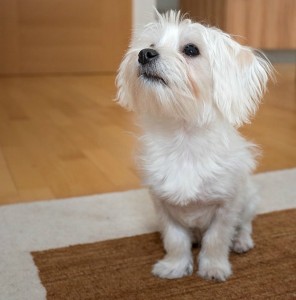 Sit is a basic obedience command and the foundation for learning other commands. It's one of the easiest commands to teach your dog and thus normally the first command taught.
Obedience training is important because it teaches your dog good manners and it can easily be incorporated into many games that you play with your dog. It can be practiced throughout the course of the day during most daily activities.
Playing with your dog increases the bond between the two of you and that will make it easier to teach your dog new commands or tricks.
Step 1
Have treats your dog likes ready. Small pieces work best when training since you will be repeating the command several times.
Step 2
Get your dog's attention by showing that you have treats in your hand and saying "Sit." If this is your first training, your dog is not going to sit right away, you are going to have to show them what you want them to do.
Step 3
To show them what "Sit" means place the treat close to your dog's nose and mouth then slowly move the treat backwards and up at the same time. The point of moving the treat backwards and up while holding it close to their nose and mouth is to get them to move into a sitting position. This action must be done slowly while keeping the treat near your dog's nose and mouth. You don't want your dog jumping at your hand and you want them to stay interested.
Step 4
Just say "Sit" once. Don't repeat it. If your dog does not get it the first time, stop, do NOT give a treat, wait a few seconds and try again.
Step 5
As soon as your dog sits, say "Yes," give your dog several small treats and lots of praise, then say "Ok," and prepare to repeat the training.
Step 6
Repeat the training as many times as you want however do not continue if your dog is not interested or not enjoying it or if you are not interested or enjoying it. Remember, even though this is training, the best approach is to make it into a game and games are supposed to fun!
Step 7
Keep up with training even after your dog gets it. An easy way to do this is to ask your dog to sit for various other activities – playing fetch, dinner, treats, etc.
Eventually you won't have to show your dog a treat to get them to sit. They will have learned the word and will know what to do, even without a treat. Even if you have asked your dog to sit and do not have a treat, remember to still praise them for listening and responding to your command.