THERAPY DOGS
Interested in therapy dogs? Interested in training your dog to be a therapy dog? Interested in joining a group of therapy dogs and their handlers? Or are you interested in having therapy dogs visit your facility or organization?
Those are some great questions!!
Here are some guidelines for becoming a therapy dog team.
Let's start with what therapy dogs are and what they are not.
A therapy dog is a personal pet and not an assistance or service dog.
What does that mean?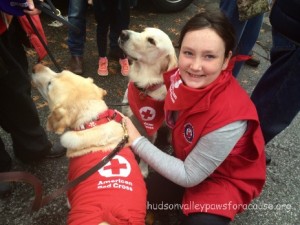 Service Dogs
A service dog is a working dog that has been specially trained to aid their owners and must be allowed to enter any establishment. An establishment does not have the right to question why the service dog is needed and they are required by law to allow access. However, that responsibility is a two-way street and a dog owner does not have the right to misrepresent their dog as a service dog just so they can take them in a restaurant or on a plane. Unfortunately a lot of people have been doing that, to the detriment of those individuals who really do need a service dog.
Therapy Dogs
A therapy dog, on the other hand, is a personal pet that has been trained, tested and evaluated (to meet certain criteria) with their handler to provide affection and comfort to people in hospitals, nursing homes, retirement homes, hospices, schools, disaster areas and to those with special needs. Some therapy dogs become R.E.A.D. (Reading Educational Assistance Dog) certified and help children who are struggling to learn to read.
Therapy dog team (this is about you and your dog as a team) training usually begins when a therapy dog is about one year old. Any breed or mixed breed can be a therapy dog, as long as they and their handlers have the training and can pass the tests and evaluations.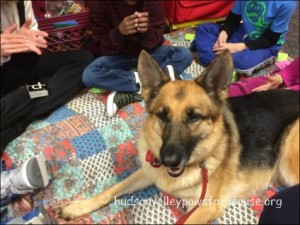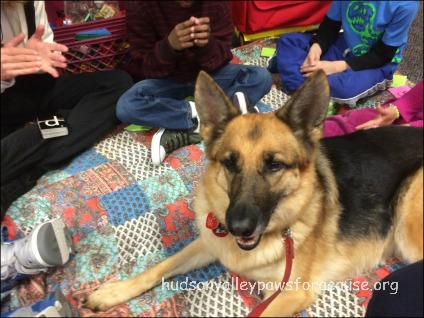 Some Therapy Dog Personality Traits
Behaves well around other dogs, no aggression, can stay calm when meeting a new dog
Does not pull when walking on a leash
Responds to their handlers commands
Likes to be petted all over and does not mind having their paws, mouth, ears or tail touched, even by a stranger
Stays calm while someone is petting them
Does not jump on people (unless told to do so)
Does not pull when walking on a leash
Does not react to strange noises or smells
Is not fearful of people who walk unsteadily or who use medical equipment such as walkers, canes and wheelchairs
Some Therapy Dog Health Requirements
Vaccinations must be current in accordance to your local laws
Fecal tests must be negative
Must be clean, well-groomed, brushed with nails trimmed
Year round Heartworm and flea prevention should be maintained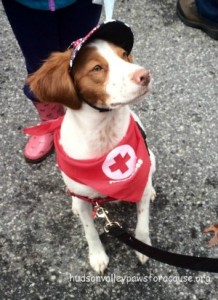 Some Important Training Tips
Your dog must understand and respond to basic commands.
Your dog must come to you when called. There are times when someone does not want to interact with them and you will have to call them back to you.
Your dog must be able to resist the urge to interact and play with other dogs that might be present during a visit – it's always a good idea to take your for a walk prior to visits to release some energy.
Your dog must be able to understand when they have to walk next to you – like if you are in a narrow hallway with other people passing.
Your dog must be able to ride in an elevator with you and others without getting excited or jumping and barking for attention.
It is very important to teach your dog the commands "leave it" and "drop it." Why? Well, if you are in a hospital setting and there is something dangerous on the floor, like say, a hypodermic needle, you don't want your dog to touch it. You also don't want your dog to start to eat a patient's lunch.
Your dog must be able to sit and stay and not jump. You don't want them to accidentally knock someone over or scratch someone.
Know when your dog is stressed. We all get stressed from time to time and animals are no different. If you notice your dog is stressed, immediately remove them from the situation. You can return on another day. Or, that might not be the venue for you. A stressed dog, no matter how nice, well-trained, gentle or sweet, can nip or bite.
Sometimes you have to help people pet your dog. For example, some elderly people are unsteady and may pat your dog hard on the head unintentionally. It is acceptable and advised to guide the patient's hand to stroke your dog. You wouldn't want someone hitting you on the head!!
Make sure you know the rules of the venue where you are working. For example, in a hospital setting, you are not permitted by HIPPA laws to get anything or do anything for a patient. So, if a patient asks you to get a glass of water or help them sit up, you must call a nurse or ask one of their family members, if they are present.