Hailey is Amazing!!
We think Hailey is amazing!!
Hailey won Highest Scoring Mixed Breed dog at the Westminster Masters Agility Competition on Saturday, February 13th.
Hailey and her handler, Karen Profena, are one of our Hudson Valley Paws for a Cause teams.
Hailey also came in Third Place for her height class in the finals.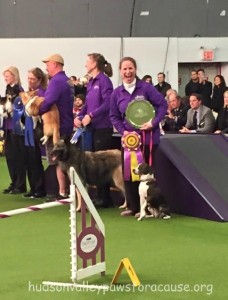 This Friday Hailey is being recognized with an award by the President and Board of Nyack Hospital for her therapy work.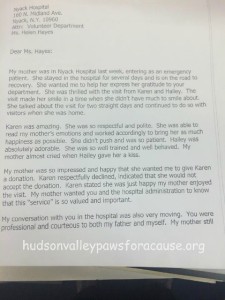 Hailey is a 10 year old Boggle (Boston Terrier/Beagle Mix) who does over 200 volunteer visits a year to various hospitals, nursing homes, convents, senior citizen facilities, colleges, etc.  She went to Newtown and brought all her props and performed tricks, entertained for 200 returning soldiers from Afghanistan during their debriefing, entertained for 600 Seniors at an event Senator Carlucci was holding, volunteered during Hurricane Irene and Sandy and wherever and whenever she is needed including fundraisers (she and her agility organization helped raise over $35,000 for hospice over the years).  Hailey competes in Agility, Rally and Obedience and has titled in AKC, CPE, USDAA, CDSP, NADAC, and more.  She can perform in excess of 175 tricks and is on the National All Star Performance Team.  Hailey also has an agent and does TV Commercials and print ads.  She has also been in training videos and books.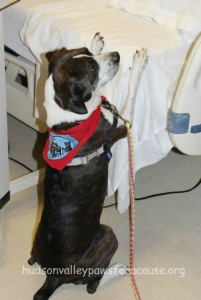 Hailey was the dog from hell as a puppy and now she has become the light of so many people's lives.  Through her therapy work she has been successful in getting stroke patients to react and move when physical therapy didn't work, people to stand that never got out of a wheelchair, someone that had destitute news of their condition to light up like a Christmas tree, assist families at bedsides which not only helped the patient but also the families so much that they were talking about her at shiver calls.  Hailey is definitely a once in a lifetime dog!  She has done so much for so many and I am ever so grateful that she has graced my life.