Founding Member Elected to Therapy Dog Inc Board of Directors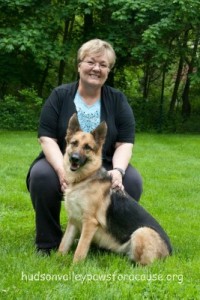 We received very special news in the past few weeks about one of the founding members of Hudson Valley Paws for a Cause, Pat Coglianese.
We always knew that we were fortunate having Pat as part of our Therapy Group.  Pat and her dog, Jesse, have been involved in our group since our very early days visiting the West Point WTU.
Pat's training expertise, organizational skills, excitement about working with dogs and wonderful personality, just to name a few of her assets, have enabled Hudson Valley Paws to branch out into new exciting venues for our teams. Pat has extensive experience as a Dog Trainer Canine Behavior Counselor certified by the Certification Council of Professional Dog Trainers and the Association of Canine Behavior Counselors. She is our Head Trainer.  She is an evaluator for Therapy Dogs Inc, testing/observing therapy dogs as well as an evaluator for the Foundation for Service Dog Support. She is also the owner of Canine Coaching in New City, New York. Recently Pat has been elected to the Therapy Dog Inc." Board of Directors. TDInc is a nationally recognized Pet Therapy Organization.
It is quite an honor for Pat and quite an honor for us to have her as a key member of Hudson Valley Paws for a Cause. Congratulations from all of us and a huge "thank you" for all that you do.