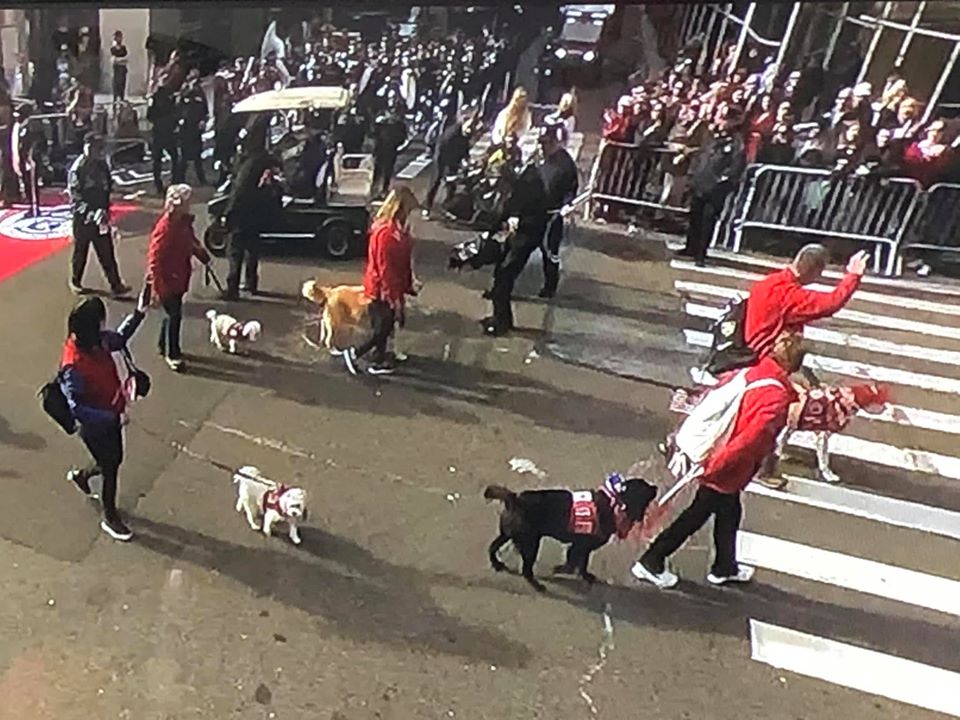 Our Hudson Valley Paws for a Cause therapy dog teams were honored to march front and center of the AMERICAN RED CROSS in today's NYC VETERANS DAY PARADE. Marching to the huge crowds sending out tremendous cheers of gratitude to our teams was heartwarming. Our dogs greeted so many appreciative spectators along the route doing what they do best….giving out furry hugs and pawsome love…especially to the many veterans and police officers along the way! Our hearts were full of tremendous pride as we were greeted by thousands of spectators waving flags and wanting to pet our dogs as they shouted cheers of thanks for our service!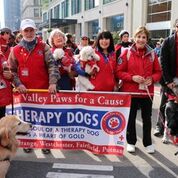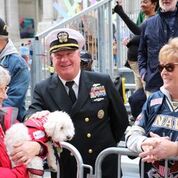 Here are the comments from HV Paws member Diane Bonita who marched with her dog, golden retriever, Cooper.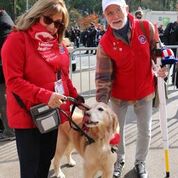 "It was an amazing day and I feel honored and so proud to have been able to march in front of the American Red Cross in the Veteran's Day Parade. Marching among the thousands of spectators up 5th Avenue, cheering us on, shouting praise and thanks to us and our therapy dogs, was an experience we will soon not forget.  Hundreds of spectators were there to happily pet our dogs; and the smiles on their faces was truly heartwarming.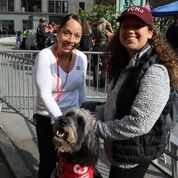 And the children, oh the children, thrilled to get the chance to pet our beautiful therapy dogs.  And our therapy dogs were so well behaved, so in tune with what was going on.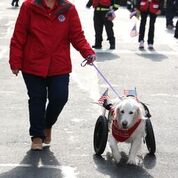 My Cooper kept pushing me to the side of 5th Avenue so that he could say a quick "Hello" to those who were cheering him on, waving their flags, and shouting out cheers of encouragement and thanks! And although it was a long dog, for us, and especially for our dogs, WE DID IT!  We walked from 48th Street down to 23rd Street to meet up with the American Red Cross.  We all wanted three hours until we were called to march.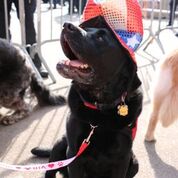 Then we proudly marched back up 5th Avenue from 23rd Street to the very end the parade, with honor and joy!  Our therapy dogs greeted everyone they met with their enthusiasm and grace, sharing their furry hugs and comforting ways. I am finding it difficult to express in words the heartfelt feelings of pride and honor experienced marching with and among the thousands of participants, especially the veterans and all our military personnel, to the cheers of thousands of spectators alongside the parade route who so thankfully and joyfully shouted out to us!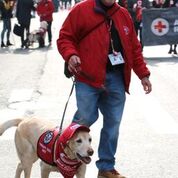 What an honor! What a day!  I wish more of us could experience being there.  Although it was my first "exercise" after heart surgery, and I was concerned about participating in the full day, I am so glad I did.  I know the enthusiasm of the crowds kept me….and Cooper….and the rest of us going!