Therapy Dog Ivy Grace Brings Cheer to the Promenade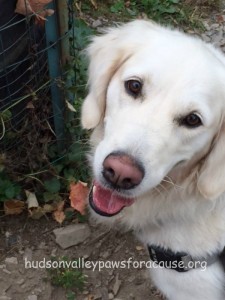 One of our team members, Kathy Schuck, arranged for us to visit the Promenade in Tuxedo Park today. Kathy Schuck is a volunteer with our group and visits our venues with her therapy dog, Ivy Grace. Her husband, Bud, also has a therapy dog named Jake. Jake and Bud are part of our group as well and they often visit along with Kathy and Ivy Grace.
The Promenade is an assisted living facility in Tuxedo Park, New York, that houses about fifty-five residents. It is a wonderful facility and the residents (and staff) have been looking forward to our visit with much anticipation and delight!
Our first visit was this morning, before lunch.  The residents lit up like candles when they saw Ivy Grace and all were excited to pet her. Everyone liked her cart and thought it might work better for them than their own walkers or wheelchairs!
Several of the residents asked us if we could stay longer or come back later in the day.
One of the residents kept calling for Ivy to "come to grandma."  We thought that was so cute.
Ivy Grace wore her pink Yankees hat. The residents and staff thought that was fantastic! But then that's because they were all Yankees fans (except for one sole Mets fan).
The residents and staff are looking forward to having our group return for another visit. One of the residents said she will be sure to have cookies for Ivy Grace.
We had a wonderful time, too. We think this is a great venue (of course we think all our venues are great!), we felt very much appreciated and we are looking forward to returning soon!!
And Ivy Grace is looking forward to her cookies! Wonder if they'll have cookies for us humans too?