Our Therapy Dogs at the January 2016 Blood Drive
by guest blogger Diane Bonita
Yesterday Cooper and I along with some of our group's therapy dog teams attended the United States Army Blood Drive Program. The program was held in the ballroom of Eisenhower Hall at West Point, New York. When we got to the hall there were already hundreds of cadets waiting to give blood for the cause.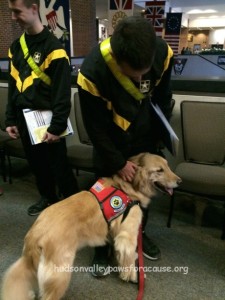 The hallways had lines of cadets waiting for instructions. The reception area had tables of cadets completing the paperwork and going through the screening process, etc.  And so many cadets wanted to meet, greet and pet our dogs.
The cadets got down on the floor to snuggle, hug and kiss Cooper, thanking us repeatedly for having our dogs there to relax them before giving blood.
They sat for a while with Cooper, telling us how much they missed their own dogs back home. Seeing and petting Cooper was such a treat!!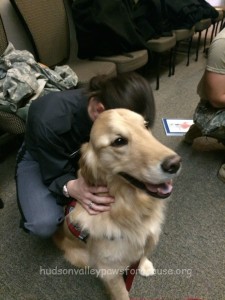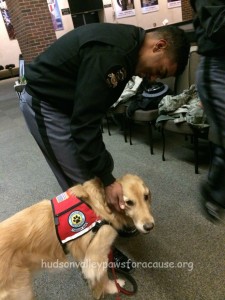 After some time with Cooper and the other dogs, the cadets had big smiles on their faces. All were more relaxed and ready to give blood.
It was such a heartwarming experience to bring relief and relaxation to others.  I asked and got permission to take pictures of the cadets with Cooper for our website. And I was so proud of Cooper, who "walked the line," greeting each cadet with a nudge, waiting for a sign of affection… and all responded!  And Cooper responded back by snuggling even closer!!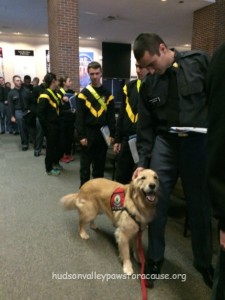 Thanks to Judy Audevard and Pat Coglianese for making these events possible.  Cooper and I love what we do and enjoy being a part of the Hudson Valley Paws for a Cause group.  Our therapy dogs and their partners are such giving, supportive, loving individuals.
Congratulations Diane, from your teammates at Hudson Valley Paws for a Cause!!