One Lucky and Special Dog
This is a story about one lucky and special dog and his special owner, Robin. Leo and Robin joined our Hudson Valley Paws for a Cause group recently and are already making news! Leo was honored at the Gimme Shelter Annual Fundraiser.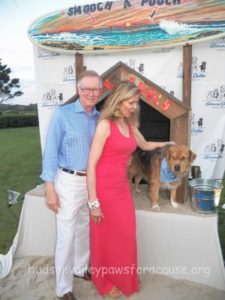 Gimme Shelter is a foster based rescue group whose mission is to rescue animals destined for euthanasia in high kill facilities across the country.
About two years ago Robin's family received an urgent call from Michelle – the founder of GSAR regarding a dog in South Carolina that she needed to bring up to New York right away. It was a very sad story – but basically he was attacked, had recent eye surgery, was heart worm positive, was in a hoarding situation but through all of this was deemed an absolutely wonderful dog. Robin's family agreed to foster him and nurse him back to health but as soon as they got a look at his face and saw his personality there was no way they were letting him go. He became their fourth dog – Leo.
Because Leo became a therapy dog and held a special place in everyone's heart, Michelle chose to honor him at this year's fundraiser which was held at the Southampton home of Chuck and Ellen Scarborough. They set up a beach themed "Smooch the Pooch" kissing booth and people donated money to take a picture with Leo kissing them.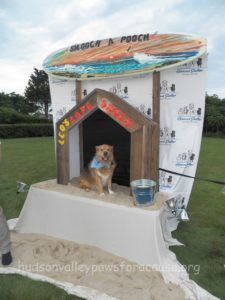 The had a cake commemorating his therapy work and Robin made a speech outlining the work he does. Of course the Paws for a Cause West Point work was part of her presentation!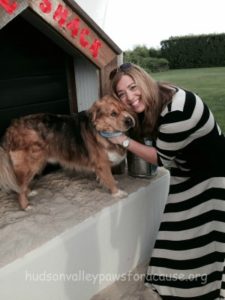 Robin, her family and of course Hudson Valley Paws for a Cause are all so proud of Leo and know that he loves to give back to the community because somewhere deep down he knows that his life was saved.
Leo also made it to the FRONT PAGE of the greater New York section of the WALL STREET JOURNAL!!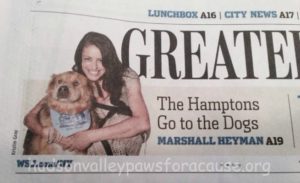 Keep up the good work, Robin and Leo!! We're all proud of you!!!