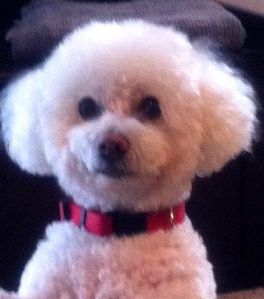 Judy Audevard adopted Kizzy from the NY Bichon Rescue in 2004. Judy brought him home to meet her mom, who had experienced a stroke 2 years prior, and was not able to move her right arm or hand and her voice was barely audible. As Kizzy sat on her mom's lap, she miraculously started stroking him with her right hand! Judy asked her mom if she realized what she was doing and she said ever so clearly, "Of course, I do, I'm petting Kizzy!" Judy was watching a miracle unfold. A few days later, Judy noticed Kizzy sitting with her mom while she read him a book and he appeared to be listening to her!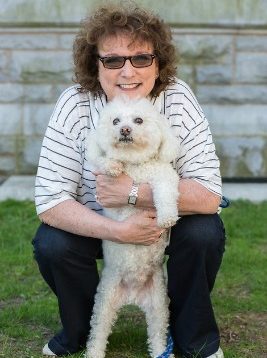 The Big Power of Little Kizzy could never be measured. He lived to love and help others and that is his legacy. Kizzy was the beginning of a new chapter in Judy's life and she could never have imaged how many lives were going to be positively impacted by this miraculous dog and all the others that followed and continue to make a difference at Hudson Valley Paws for a Cause.
Judy left her career as a corporate marketing executive and turned toward her newfound passion, the World of Pet Therapy. In 2011, she founded Hudson Valley Paws for a Cause and oversees a group of over 60 volunteers and their pet partners. Judy adopted her beloved Lulu who is the delight of everyone who meets her.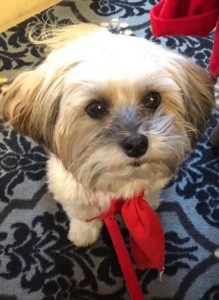 HV Paw's Pet Therapy Teams support Hospital and Nursing Home Senior Programs, Children Reading Programs, Emotional Support for Special Needs Children and Adults, Stress Relief in Colleges, Universities, Mental Health Facilities, Active Duty Soldiers, Veterans and their families and Corporations.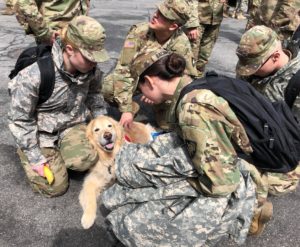 All Hudson Valley Paws volunteers are members of the American Red Cross  and participate in De-stress programs for the U.S.M.A. at West Point. Paws for Kids, is a program designed for special needs children.
Judy and her team of volunteers support patients and their families in hospitals in NY and CT including Nyack Hospital, Veterans Hospital in Montrose, Putnam Hospital, Good Samaritan Hospital in Suffern,  Silver Hill Hospital in New Canaan, Stamford Hospital, Hospices in Rockland and Norwalk, Mid Hospital in Poughkeepsie, and West Point Blood Drives.
Her teams are active participants in a nationwide organization called R.E.A.D.® (Reading Education Assistance Dogs). Library programs are in place at Tuxedo, Pearl River, Rose Memorial and Haverstraw Kings Daughters.
De-Stress Programs are in place at in NY and CT schools including SUNY, New Paltz,  UConn, Stamford, CT, West Point, NY, Dominican College, Orangeburg, St. Thomas Aquinas, Sparkill, Mt. St. Mary, Newburgh, Marist College, Poughkeepsie, and Berkeley School, White Plains, NY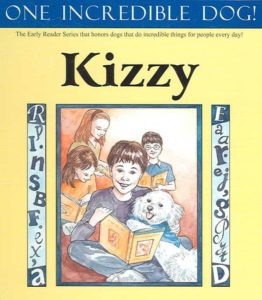 Judy's miraculous dog, Kizzy became the subject of a book called, One Incredible Dog! Kizzy.  She also coauthored a book, At Your Service which features short stories about the pet therapy teams she works with.
Judy has been featured in Ladies Home Journal, Hudson Valley Magazine, Hudson Valley Life, Rivertown,. She has also been interviewed by ABC News for her work with the READ program. She presently teaches workshops on How to Get Involved with Pet Therapy and R.E.A.D.® at Norwalk Community College, Norwalk, CT, Westchester Community College, Valhalla, and Stamford Adult Education, Stamford, CT.
JUDY AUDEVARD AWARDS & COMMENDATIONS
2017 Presidential Gold Honor Award.
2016 Presidential Silver Honor Award
2016 and 2013 Black and Gold Volunteer Award presented by the United States Army Garrison and the American Red Cross.
First Book Honorary member; a national organization where children from low income families have the opportunity to read and own their first books.
SHARE Board of Directors member; Safe Haven Animal Rehabilitation in Rockland County, NY.
American Red Cross Advisory Council for the Greater NY chapter
Volunteer of the Year Award from the Greater NY Chapter of the American Red Cross.
2012 AARP State Andrus Award Nominee for Community Service, AARP's most prestigious volunteer award for community service.
Receiver of the Garrison Commander Coin which is presented to citizens who bring understanding and unconditional assistance to the West Point Community.
Betty Rasmussen Service Award from the American Red Cross recognizing an individual who has exhibited exceptional devotion to serving the West Point community.