A Military Dog Handling Team
This week I had the pleasure of speaking with Adam Belward, who was a military dog handler in the Air Force.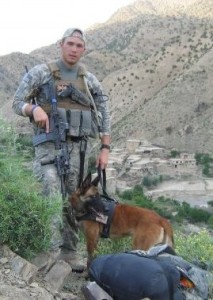 Adam's dad trained dogs in the Air Force during the Vietnam era. He enlisted, went to basic training and then to technical school to be a security forces officer (Air Force police officer). One day during training, the class was asked if anyone wanted to be a dog handler. Adam's dad raised his hand and that's how his career training military and police dogs started. Upon returning to civilian life, he started and ran a canine unit for the police department in Norwalk, Connecticut and that's what he did until his retirement.
Growing up with a father who ran a police canine unit, Adam developed an interest in doing the same type of work. While in high school, he volunteered to help with dog training. He was a junior in high school during 911 and upon graduation he, too, joined the Air Force and trained for security forces. He really wanted to be a dog handler but dog handlers had to first prove themselves and get a recommendation from the Kennel Master. Adam set out to do just that by helping out at the kennel as much as he could. Four years later and after two tours in Iraq, Adam received the Kennel Master's recommendation and was accepted into the Military Working Dog Academy, a three-month long training school at the 341st Military Working Dog Squadron at Lackland Air Force Base in San Antonio, Texas.
Adam's dog, a Belgian Malinois named Kitti, was a "dual-purpose dog." A dual-purpose dog is trained to identify both substance odor as well as to attack and defend.  Specific requirements must be met by both canine and human for both to be certified to work as a team in this capacity. Dogs like Kitti also have already received foundation training (obedience training, introduction to detecting substance odor, training to defend and attack and have proven that they have the capabilities to perform the dual-purpose function) before they are assigned to a handler in Adam's position. Read more about Adam and Kitti here.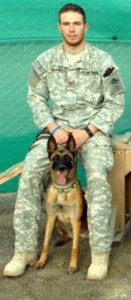 After the training ended, Adam was assigned to the 820th Combat Operations Squadron at Moody Air Force Base in Georgia. While in Georgia, Adam and his dog mainly worked on finding explosives. For example, if the president was coming for a visit, the teams would support the Secret Service. Handlers would receive the president's itinerary and then bring the dogs to explore the building or area where the president would be, sniffing for explosives. The dogs are trained to identify the substance odor and, once identified, to sit and stare at it. At that point the EOD (Explosive Ordinance Disposal) is contacted. EOD personnel are specially trained to dispose of explosives. Once the building or area is cleared, the secret service stand guard.
From Georgia, Adam went to Afghanistan where he was attached to an Army unit on what is called a JET (Joint Expedition Tasking) Mission – where Air Force personnel get loaned to the Army. Here Adam and Kitti continued as a team, helping other units wherever needed. Dogs like Kitti accompanied their handlers to search specific target houses and areas for explosives or IED materials.
Adam and Kitti worked with another team, Steven Kaun and his German Shepherd, Gitta. Read more about them here.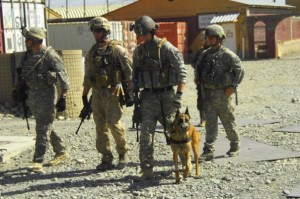 Adam is now attending the Culinary Arts Institute in Hyde Park, New York and is also in the Army National Guard (182nd Alpha Company). He still does some private dog training but does not want a career training dogs. What he loved doing most was the "whole package," i.e. handling the dogs and implementing them for what they were trained to do. Since cooking is another passion of his, he decided to enroll in the Culinary Institute.
We wish Adam well in all his future endeavors!!