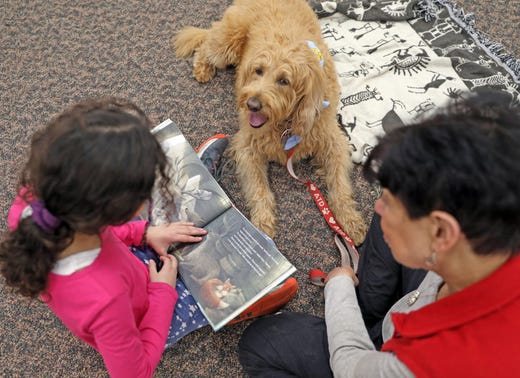 Many young readers are reluctant to read out loud, uncomfortable that they may make a mistake.  So many libraries have instituted therapy dog reading programs because children are more comfortable reading to a dog than to a person.  Dogs are not judgmental and are friendly and fuzzy, thus reducing the anxiety levels of children. Research has shown that there can be a significant improvement in the reading skills of children who regularly read to dogs.
Hudson Valley Paws for a Cause visits a number of libraries on a regular basis. All teams are certified Reading Education Assistance Dogs.  The dogs are trained to stay quietly while children read.  Their handlers have been certified in being a catalyst between the dog and the child and encouraging the process.
HV Paws teams recently visited the Pearl River Library in Pearl River, NY. Lohud did an article and video of the teams in action. You can see it at the link below:
These teams participated:
Lorraine and Meeka (labradoodle)
Evelyn and Felix (greyhound)
Regina and Ranger (golden retriever)
A wonderful time was had by all.  The children love the interaction with the dogs and the dogs love the interaction with the children.