Hudson Valley Hero of the Month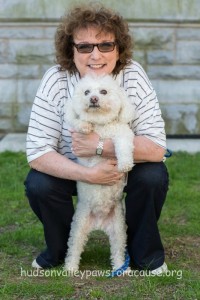 Each month Hudson Valley Magazine spotlights a Hudson Valley "resident who goes the extra mile to help those in need." Quoting the magazine "heroes are your friends and neighbors who volunteer their time and talents to assist others; their sole reward is knowing that they've contributed to making our region an even better place to live."
This month we are excited and honored to announce that it is our very own Judy Audevard and her dog, Kizzy, who have been chosen Hudson Valley Hero of the month by Hudson Valley Magazine!!!
Cynthia James wrote a wonderful article about Judy and Kizzy. Click the link to view Cynthia James' article in the March 2014 issue of Hudson Valley Magazine (the magazine is available in print and online at hvmag.com).
We have also reposted the article here on our blog, giving credit to the magazine and the author.
Judy Audevard, Director of Hudson Valley Paws for a Cause Pet Therapy
Meet our March 2014 Hudson Valley Hero: Judy Audevard, Director of Hudson Valley Paws for a Cause Pet Therapy
By Cynthia James
Introducing our inaugural Hudson Valley Hero, Judy Audevard, director and one of the developers of Hudson Valley Paws for a Cause Pet Therapy. Though she should share her recognition with Kizzy, her 17-pound, 14-year-old Bichon Frisé, with whom she has been providing pet therapy at hospitals and schools in Rockland, Orange, and Westchester counties for close to 12 years.
Audevard became involved in pet therapy after caring for her mother, who had suffered a debilitating stroke. Audevard's mother was unable to speak clearly or move the right side of her body; but when Kizzy sat with her, she used her right hand to pet him, and was able to read get-well cards to him aloud. "This was after two years of physical and occupational therapy," remembers Audevard. Realizing that she and Kizzy could help other patients too, she had her pooch trained as a therapy dog. "I needed a challenge, and Kizzy needed a job," she says.
Kizzy now has certifications from Therapy Dogs, Inc. and Reading Education Assistance Dogs (R.E.A.D.); he is an American Kennel Club Canine Good Citizen ("He has more degrees than I do," Audevard jokes). Over the past decade, she has taken him to numerous hospitals in the lower counties, where he provided companionship for patients with both physical and mental ailments. Since Kizzy seemed to be particularly effective with children, Audevard worked extensively with R.E.A.D. — a program that improves kids' reading skills. When a child reads to the dogs, it boosts his or her confidence. "The dog is not judgmental," Audevard points out. "They don't care if the kid makes a mistake."
Audevard's biggest project took root when a West Point representative asked her to organize a group of therapy dogs for Warriors in Transition — a program that aids soldiers suffering from PTSD. "I wasn't even aware that the soldiers coming home from Afghanistan and Iraq were housed at West Point," says Audevard. "The soldiers and their families are the real heroes, and I saw this as a way I could help."
In September 2010, Hudson Valley Paws for a Cause was born. Audevard and Kizzy, along with other human/canine teams from Rockland and Orange counties, spent one day a week at the barracks. "We're not therapists, but the soldiers talked to us," Audevard says. "Sometimes they told us things we were glad to hear, and sometimes they told us things we really didn't want to hear. But getting the 15, 30, or 45 minutes with the dogs made them feel comfortable."
More recently, Paws for a Cause has turned its attention to soldiers' families. Every Tuesday, a squadron of R.E.A.D. dogs plays with special-needs children whose parents either work at West Point or are deployed overseas.
Audevard says the kids make consistent reading progress; parents stationed abroad are often sent videos of their son or daughter reading aloud, so they can see the improvement for themselves. But more valuable than the educational skills are the personal bonds that form. "There was one boy who had problems with social skills who sat down with another child and a dog and just read to her on his own," she recalls. "There are so many little miracles that unfold in front of you, and they happen each week."
Thank you Cynthia James and Hudson Valley Magazine for honoring our director and our group this month!!
Do you have someone in mind that you would like to nominate as a Hudson Valley Hero? Click the link to the article, scroll down and share!!