Cadet Destress Day May 5, 2013
written by Susan Henson
Today was cadet destress day.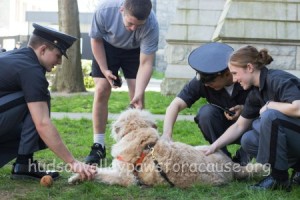 Some of you may remember an article in the 2012 Volume 7, Issue 1, of "Therapy Dogs Incorporated News Magazine," about a group of Dog Therapy teams that were visiting soldiers at West Point. We visited with soldiers who came back to the U.S. suffering from PTSD, traumatic brain injury and other physical and emotional problems. Well, this particular Dog Therapy group, had small beginnings in 2011 but has grown and gone in directions that we did not anticipate two years ago.
Our group is now known as, "Hudson Valley Paws for a Cause." We are located in the beautiful Hudson Valley in New York State, about a forty five minute drive to West Point from Rockland County where most of our teams live. We have teams who live in Connecticut, Orange County and in New Jersey.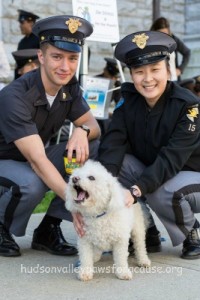 West Point, where the Military Academy is located, is the oldest fortress in the United States. The American Flag has flown at West Point since the year 1778.
Throughout America's young history up to the present, graduates of the Military Academy at West Point include past U.S. Presidents, Generals, astronauts, famous engineers of the 20th century and leaders in all aspects of public life. Today's young cadets are the future leaders of our country and the protectors of the American way of life therefore it was a very special place for Therapy Dog Inc., dog teams to spread their charm and cheer.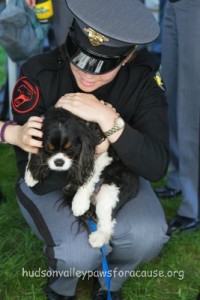 The week before West Point graduation the cadets have a stressful schedule which includes final exams, projects and tests of all kinds. This year West Point DeStress Day was held during that particular week. There were tents set up on the academy campus to help distract the cadets for a brief time before going about their important agendas.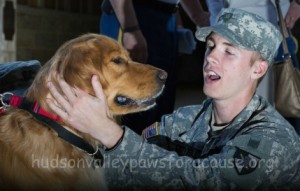 The weather that day was beautiful. The temperature was in the high 70's, no humidity and the sky was crystal clear. We met at the Army Community Center at 9:30 a.m. and were taken by vans onto the West Point Military Academy Campus. This was a different kind of experience for the dogs and it was a very special day for the human side of the leash. We knew how special and privileged we were to be invited to one of the most prestigious and historic military academies in our country. The dogs were very well behaved on the vans and although we had been on this post before, we had never been on the campus itself.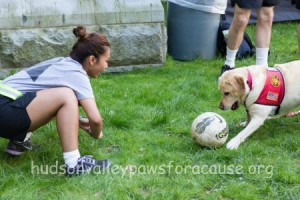 Once off the vans we were ushered through the massage tent to our tent. The tent was located around the corner of a building on a grassy area. There was shade for the dogs and we were permitted to take them wherever they needed to go for a break during the day. When we arrived at the tent we were greeted by a number of young cadets sitting around on some chairs not knowing quite what to do. That only lasted about a second. The dogs immediately went to work. Wagging tails and happy greetings on the part of the dogs immediately made us all relax. There were different breeds that day. A Bichon, Kizzy, Labradors, Darla and Molly, Golden Retriever Casey, Labradoodles, Meeka and Skylar, and our Cavalier King Charles Spaniel, Murphy. Some of the cadets didn't recognize some breeds and asked questions about them, how they became therapy dogs, etc. We heard stories about their own dogs at home, who were sorely missed, and those dogs that they grew up with. It was fascinating for us as these young people came from all over the United States.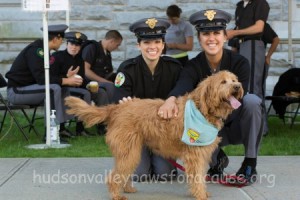 Those of us with sporting breeds brought balls, toss toys and frisbees. We had room to play and retrieve. Some of the cadets just wanted to hold and cuddle a dog. As we aimed to please, our Bichon and King Charles Spaniel were at their disposal.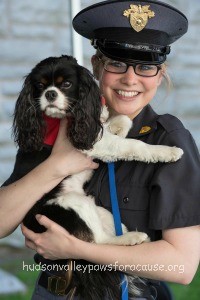 Being so involved with watching my own dog, I was shocked when I looked at the tent and realized that we drew a huge crowd. Some of the cadets said that they heard happy barking and were able to find us. All of this excitement was going on for about three hours when we took a lunch break and a break from the action. We took picnic lunches to a place called "Trophy Point." It is a strategic lookout above the Hudson River where important events took place during the American Revolution that shaped the early history of our country. Walking back to our tent, we passed the "Plain at West Point" that has been the scene of many graduations and military training since the year 1778!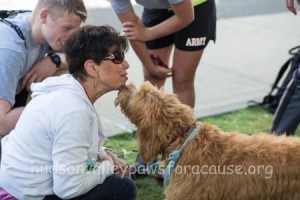 The afternoon was a repeat of the morning, playing ball, relaxing, socializing, cuddling, etc. We had many cadets come back a few times during the day to visit.
About 3 p.m. the vans picked us up and dropped us off at our starting point, the Community Center. Our group was exhausted but totally exhilarated by the day. Many cadets wanted us to visit all the time. They told us we should come every week! We didn't know how successful this day would be!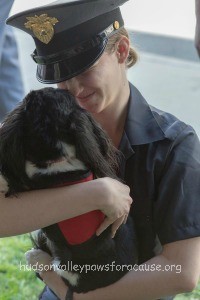 My husband asked how the visit was. I told him about the day and I estimated that we saw about one hundred cadets. As it turned out we attracted over eight hundred cadets and officers! Some of the officers said that they hadn't seen this many smiles for weeks. I guess we did our job.
It was uplifting to greet and speak to the future leaders of our country, perhaps even a future President!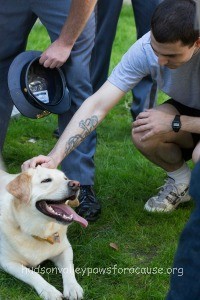 We've been invited to visit again during the year.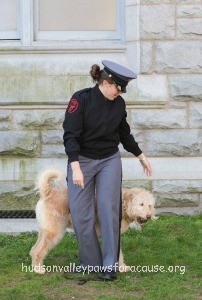 Than you for letting Hudson Valley Paws for a Cause share this very special experience with our TD Inc readers and thank you to our wonderful dogs at the other end of the leash! We love you!
This article, written by our team member, Susan Henson, along with the pictures taken by photographer Alley Maher, was submitted to and published in "Therapy Dogs Incorporated News Magazine," 2013 Volume 8, Issue 2.
See more fabulous pictures from our day on our Facebook page.