Awesome weekend at the 9/11 Memorial Community Day in NYC and at the Marist College Fundraiser in Poughkeepsie!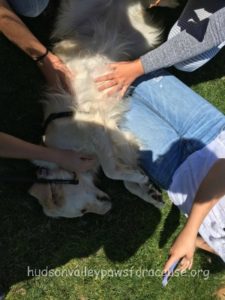 What an awesome weekend for the HVPaws Group!! On Saturday, April 24, 2016, we had TWO fabulous events to attend – the 9/11 Memorial Community Day in New York City and the Marist College Fundraiser in Poughkeepsie, New York!
The 9/11 Memorial Community Day was held in lower Manhattan at the memorial site for the World Trade Center and included a 5K Walk/Run event.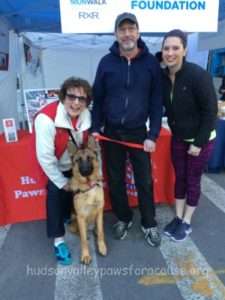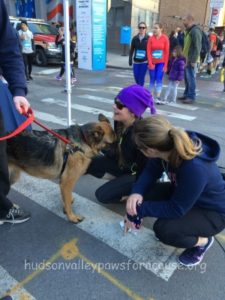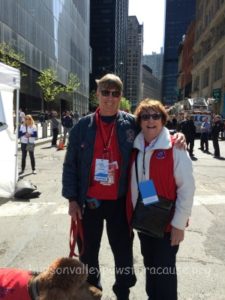 A wide variety of organizations came together for the day. We learned about each other while telling attendees about the important and courageous work that all working dog teams do – whether to protect, support or provide therapy to heal.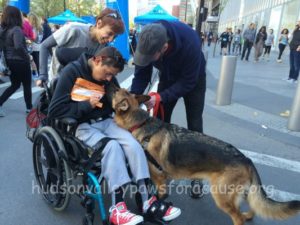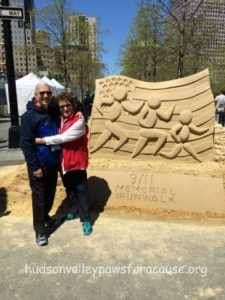 Talented groups and individuals also performed musical numbers in tribute. Police K9s gave us demonstrations.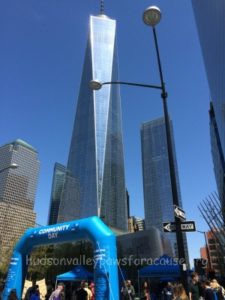 We saw Andrew Sindell, who manages volunteer resources for the Red Cross and works with us. Andrew ran in the 5K and stopped by to visit with us after the run.
SGT Rambo, the military dog, was there with his handler Lisa, all the way from Texas.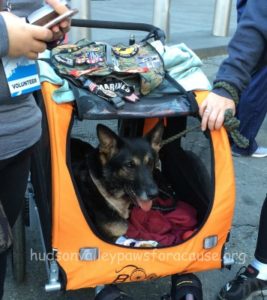 SGT Rambo is a retired explosive detection military working dog that served with the Marine Corps from January 2011 – April 2012. He was injured during his service and had to have a limb amputated. SGT Rambo is currently the mascot for Gizmo's Gift. Gizmo's Gift is a Texas not-for-profit organization created to provide financial support for families who adopt retired working dogs. SGT Rambo also visits dementia patients, youth groups and children with special needs, bringing love, life and hope to all. SGT Rambo visited with us at the Fairfield County Women's Expo in Stamford Connecticut last year.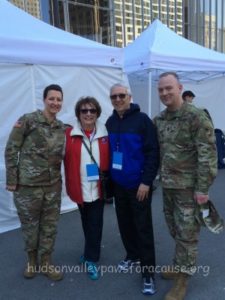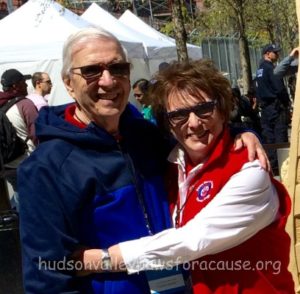 The Marist fundraiser was also on April 24, 2016, so some of our teams drove up to Poughkeepsie to participate in their event. The event was sponsored by one of the campus sororities. They charged students $3 to pet the dogs as a fundraiser for the charity they donate to regularly. They offered to donate half of their proceeds to us for our participation. We were very grateful for their generosity; this has been one of our best fundraising event to date!
We even had a "Smooch a Pooch" booth!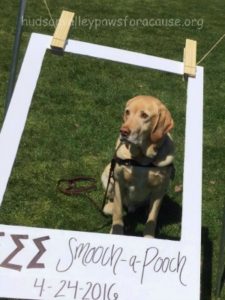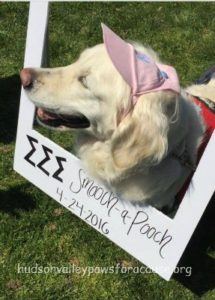 David Luntz, our student intern, also attended the event. David attends the Croton-Harmon High School. The school has an internship program requirement for their seniors. David's internship is a research project about therapy dogs. He is joining Pat Coglianese's therapy dog class and will be joining us on visits to our venues as part of his research for his internship. If he and his dog pass testing, they plan to register and David will become an ATD junior handler.