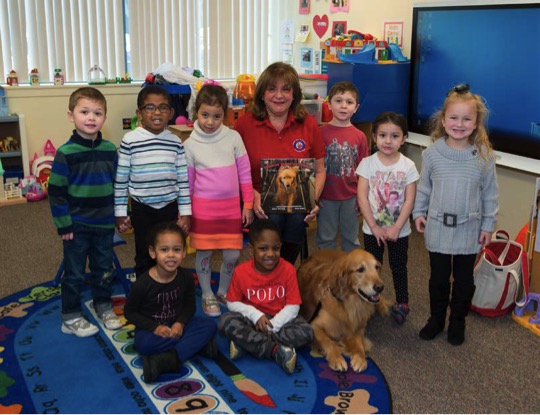 ARCLIGHT SPRING/SUMMER 2017
Hearts and Tails
They are calm and quiet, gentle, patient, unobtrusive—offering comfort and compassion, eliciting smiles, serving as catalysts for conversation—these are trained therapists, the canine members of Hudson Valley Paws for a Cause
PHOTO: JOSEPH SCOLLO PHOTOGRAPHY, INC.
The dogs work in tandem with their owners, each pair a designated team. "We visit schools, libraries, assisted living facilities, nursing homes, hospitals, vendor fairs, agencies serving people with disabilities and we make private visits," says Paws President Judy Audevard. "Besides being therapy dog teams, all of our members are also part of the American Red Cross." Current training will enable the teams to visit people situated in churches, schools or other sites following a disaster.
One of the group's initial visitation sites some seven years ago was West Point, where the therapy dogs worked with soldiers with Post Traumatic Stress
Disorder returning from Afghanistan and Iraq. "We would go each week and meet with the soldiers," says Ms. Audevard. "During these sessions a relationship would develop between the dogs and the soldiers." The soldiers were ultimately deployed to other army bases or hospitals, but the therapy dogs have continued to be involved with West Point families through programs geared towards children with special needs.
Ms. Audevard explained that not all pups are suited to the work of a therapy dog. "Most dog owners believe that their pet is the best dog in the world. If you notice that your dog is very friendly, very happy, really special, and if you want to share your special dog, then yours could be a therapy dog," she says.
A rigorous six-week training course prepares
both the pet and handler for the responsibilities and challenges of the job. "Part of the training requires that the pair spend time in a facility to see how the dog will react around wheelchairs, crutches, how the dog handles walking on a tile floor. Most of the
dogs do very well because they want to please.
They seem to understand that they are thereto help," states Ms. Audevard. The human member of the team may introduce the dog by name or answer questions about the dog when asked. However, she says, "We are not
therapists or teachers. Our role is to make sure the dog is doing the therapy."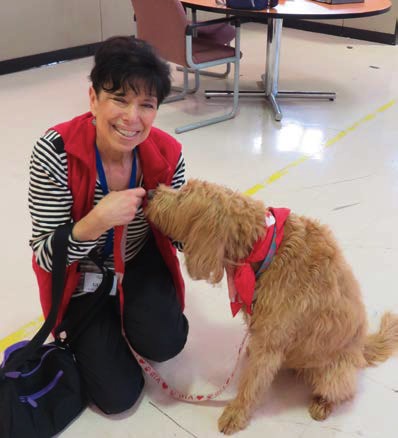 Lorraine Brown, a certified volunteer with Paws for a Cause, coordinates regular visits to ARC of Rockland. The willingness of the dogs to be petted and spoken to, the quick compliance with which they give a paw upon request brings smiles to the faces of people in their midst. "The dogs know that they don't come to play," explains Ms. Brown. From
the owner's perspective, "Your leash is your friend. You use the leash to remind the dog, to redirect, to refocus. You are the boss, the dog listens to you. The miracle of dog training is the person at the other end of the leash."
Ms. Brown retired as a special educator in 2010. "I wanted to do something related to people with disabilities," she explains. "I thought my dog Meeka would be a perfect
therapy dog. She readily responded to my commands and was easily trained. The duo completed the course and have been active participants since. They have visited a range of facilities and befriended numerous people as a therapy team. "Not everyone is initially eager to approach a dog," states Ms. Brown. "Some relationships take time. The best reward is the glow on the face of someone who at first, draws back, and then, after a while, gently pets the dog. These dogs give us a channel for expression and communication. If we feel comfortable, the dogs follow suit."
On a chilly morning some months ago, a certified therapy dog named Tuesday and his partner Diane Bonita paid a visit to Debbi Zallo Pragdat's preschool class at ARC of Rockland's Prime Time for Kids Early Learning Center in New City. The children clustered around their new friend with obvious glee, giggling quietly as they stroked Tuesday's coat.
Not long ago, Tuesday became an official member of Paws for a Cause. For the eight years prior, he had been a Service Dog with the late Luis Carlos Montalvan, veteran and author. The former US Army Captain who had PTSD wrote several books extolling the virtues of Tuesday. The decorated soldier is remembered for service to his country, his motivational speeches and his New York Times best-selling book, Until Tuesday: A Wounded Warrior and the Golden Retriever Who Saved Him. Inspired by Tuesday's story, Ms. Bonita and her Golden Retriever Cooper became a therapy team.
Today, Tuesday has two residences. He has a home with Diane Bonita and another home with Educating Canines ssisting with Disabilities (ECAD), the organization that trained Tuesday to become a Service Dog. Tuesday and Cooper make alternating visits to Prime Time for Kids and other organizations.
Ms. Bonita explains the difference between a service dog and a therapy dog. "A service dog is usually trained for two years and works for an individual who has either visible or invisible disabilities. When meeting a service dog, one has to ask if the dog can be petted."
Therapy dogs, on the other hand, are trained to be petted and touched by many people. Ms. Bonita and Cooper have participated in blood drives, visited hospitals, nursing facilities and rehabilitation centers. They have also been participants in an elementary school program for children who have difficulty reading aloud to other children. "These youngsters find it easier to read aloud to a therapy dog. The dog helps the child to relax," says Ms. Bonita.
"Therapy dogs are trained to walk or sit by your side and not be distracted," says Ms. Bonita. "They are trained not to pick up anything. They can listen to a command to get alongside a wheelchair or put their paw on somebody's lap. They know not to jump on people unless they are taught to jump on someone's lap. A therapy dog has to be well behaved. No barking, no running. They are taught not to play with other dogs when they are working." Several teams of therapy dogs and handlers often visit a destination as a group. "When the visit is finished, we will meet outside of a facility and the dogs can say hello to one another. When they are working, the dogs have to ignore their buddies," explains Ms. Bonita. "The therapy dogs are trained to bring comfort and love to people."
To learn more about Hudson Valley Paws for a Cause, contact HVPaws@gmail.com or call 914.953.6434.